If there's a higher joy than writing an excellent six-page paper that's been procrastinated on for weeks two nights before its due, in one sitting, it must be doing the above and then emptying out the c. 1,000 junk emails that have accumulated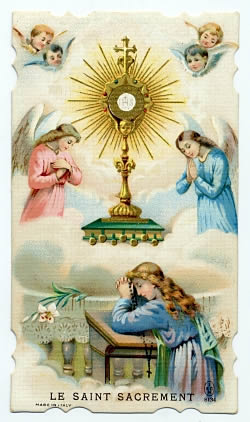 on a Yahoo account since the heady days of September, I know it not, excepting Eucharistic Adoration. Such is my sober giddiness.
Tomorrow will be even more work filled, but I suspect that by Tuesday I will have set aside enough time to listen to
Fumbling Into Ecstasy
a sixth time- I now have truly come to appreciate that album. And now that I'm back at Assumption, no need to argue with my brother about whether my music is enjoyable and simple, or just "cacophonous noise". If there has ever been
pax Americana
, this is it.
Better yet, I even finished "His Jordan Rose" ('the Mexico poem' to those of you familiar with me during the day). I now need merely continue in my revisions; then I could post the work I have labored over for months in eight installments- if I wanted to. It's a bit delicate, for despite the ultra-high amount of respect the Beatriz Rosa del Jordan (the Jordan Rose) character gets within the poem, I am
convinced that my precious inspiration would be made uncomfortable if she ever read the work she inspired. I will make due by thanking her for her inspiration, and sending her my Christmas greetings- though I'm quite sure she only celebrates Chanukah, wink wink!